Founder and facilitator Albee Pedone began his journey of self realization in 1995, becoming an apt student of Eastern philosophies. As his understanding of his existence and the world around him deepened Albee began working for, and studying under spiritual teacher Melissa Halsey, a world-renowned healer, in 2001. Occupying roles of assistant in the operations of her company WisdomWord, and student, he immersed himself in a world of spiritual learning and service.
It was during this time that his commitment to becoming a healer manifested, leading to his being a graduate of WisdomWord's Spiritual Apprentice Program. At the culmination ceremony of this year-long teaching mentorship Albee had a most powerful and life-changing transformation while experiencing his first firewalk. He knew instantly this was something very special he wanted to share with others and became a F.I.R.E. Certified Firewalk Instructor in 2004.
Under the tutelage of firewalking guru Tolly Burkan, Albee learned how to inspire people to walk across hot coals, and broken glass, along with other essential techniques for breaking through fear in order to achieve self-empowerment. Shortly afterwards he started down his path of service helping others realize their power and connection to the divine.
In 2021 Albee returned to the F.I.R.E. tribe, achieving Master Instructor level in April 2023, under the guidance of F.I.R.E.'s new president, Joe White. Having surrendered to the overwhelming feelings of love, trust, and truth, accompanied with a burning desire to serve others, Albee has breathed life back into Waking Journeys, a company he originally formed in 2004, and is transitioning away from his long-time (and loved) career in the restaurant industry.
With the inner peace and universal understanding gained through years of spiritual practice Albee's life is dedicated to the service of others. Integrating this intention with training in self-empowerment, through Waking Journeys, he offers group firewalks, glasswalks, and spiritual empowerment workshops, and provides space for individual spiritual counseling sessions. A nature-lover, hiking enthusiast, and landscape photographer, Albee brings his love of the natural world and the healing energy of the earth into his work. Having certifications as a firewalk instructor, breathwork facilitator, as well as being a Level Two Reiki Practitioner, and Chi Drummer Initiate, he utilizes all he has learned in support of others wishing to choose a more peaceful life of truth, trust, love, and happiness. Encouraging empowerment through engagement, Albee welcomes all those seeking a different life to Waking Journeys.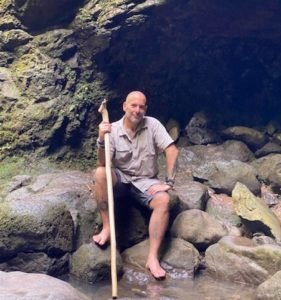 When not in front of the fire, or behind the camera, Albee is most likely outside playing in nature.
powerful practitioners
to support your journey
One person cannot do it all, and being so Waking Journeys receives support from a network of highly-skilled, deeply trained, and compassionate healers and teachers, to co-facilitate firewalks, glasswalks, and spiritual empowerment workshops and retreats, bringing a complete, well-rounded, and balanced experience to participants. Each workshop's team of practitioners is mindfully curated around it's specific intention to make every moment as supportive, nurturing, and transformative as possible.
we love and support all beings on all journeys
Waking Journeys
firewalks, glasswalks, and spiritual empowerment workshops